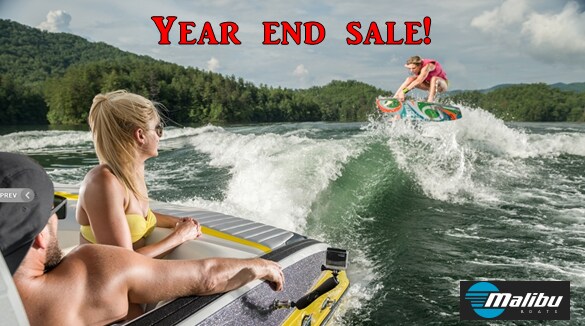 Malibu & Axis Year End Sale
Come enjoy deep
$$ Discounts $$
 offered by Malibu & Axis on all new boats!
Be ready to enjoy the springtime on the water!!!
Contact us today and enjoy additional savings up to $4000 on Malibu boats and $1500 on Axis boats....on top of Aqua Sport Marine's end of year discounts.
Sale ends December 16th, 2015
 _____________________________________________________________________________
The very first 100% electric Malibu Boat!!
A 23 LSV with 3 huge batteries totaling 2250 pounds creates an unbelievable wave! Our experience riding:
·         The torque to reach 30mph is equivalent to the 450 Corvette engine…if not more
·         When making a surf wave, we only needed to fill the original ballasts and did not even need to use the power wedge thanks to the weight of the batteries, the wave was already huge
·         The fact that there is so silent, only the sound of the wind and the water hit the hull gives a completely different feeling
·         we could almost say we are really surfing because of the lack of noise coming from the engine
With the joint collaboration of LTS Marine, we now offer the possibility of transforming your Malibu or Axis into an electric boat!
Call us today for more information
Normal
0
21
false
false
false
FR-CA
X-NONE
X-NONE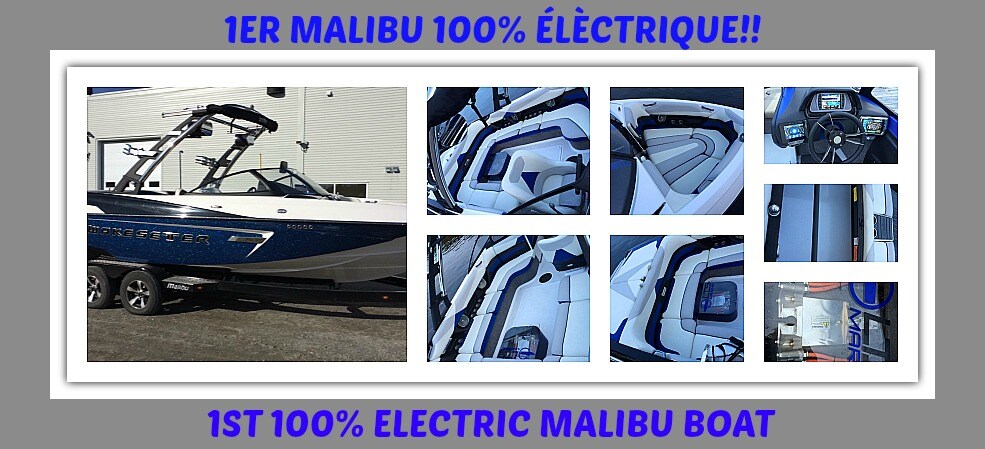 ONE BOAT, THREE SPORTS, ZERO COMPROMISES: MEET THE ALL-NEW WAKESETTER 20 VTX

World-class slalom flats, huge wakes, and unbelievably massive surf waves-all with one boat? Yes.
Loudon, TN | August 11, 2015 - Grab your family and friends and head out to ski, ride, and surf with equally epic results behind the completely reinvented 2016 Wakesetter 20 VTX, the crossover boat the pros are raving about. The all-new 20 VTX exceeds every expectation by pulling off this competition-crushing trifecta, especially for a boat its size. From slalom master Thomas Degasperi to wake hero Phil Soven to surf genius Brian Grubb, these watersports champions can't believe the unequaled versatility and performance of this do-it-all dream boat.
One boat, three sports, zero compromises-that's the all-new Wakesetter 20 VTX. All-new from the hull up for 2016, the 20 VTX is known as the crossover king, recognized as the best ski/ride/surf boat on the market-and now it's even better. Ideal for the those who love wakeboarding and-surfing as much as waterskiing, the VTX fits easily into the average garage, and a removable center pylon maximizes skiing performance. With a few quick taps on our dual-touchscreen Command Center, you can fill up to 1,250 pounds of hard-tank ballast, 1,100 lbs of Plug N Play ballast, set the bigger, hydraulic Power Wedge II for 1,500 more pounds of ballast, and engage our revolutionary Surf Gate to create the perfect surf wave. For multisport enthusiasts, the unique T-Cut Diamond hull developed for the the record breaking Response TXi is specifically engineered to lay down tournament-quality slalom wakes. With the largest cockpit of any crossover boat on the market and seating for up to 11 people, the 20 VTX is roomy enough to show your friends what it's like to ride in Malibu style.
Malibu CEO Jack Springer is excited to deliver a fully new version of this well-established multisport phenom. "The new 20 VTX is a perfect example of how we never settle and are always working to improve our towboats," says Springer. "We built it to allow you to reach your full potential in waterskiing, wakeboarding, and wakesurfing. If you're looking for the highest-performing, most versatile crossover boat on the market, this is your boat. Malibu stays on top because we give our customers the best performance and quality. We also listen to our athletes, and they couldn't be happier. Our pro team is amazed at what the reinvented 20 VTX can do."
Malibu athletes Thomas Degasperi, Phil Soven, and Brian Grubb took the 20 VTX out for an epic session and reported back. "The new VTX performs like a tournament ski boat, but I also love to surf, and the wake is incredible for a 20-footer," says Degasperi. Soven agrees: "The VTX is just the right mix when you're looking at a crossover wakeboard boat, delivering great wakes for all ability levels from joe to pro." And Grubb says, "You won't believe this wave coming from a 20 foot boat. It's so big and clean you'd think it was from a 23 footer."
Ask us about the new Wakesetter 20 VTX, available now.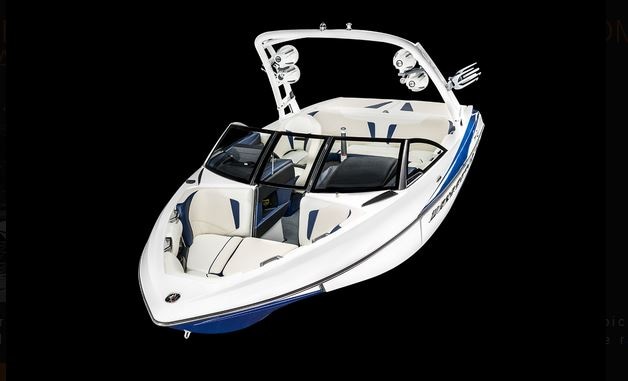 LENGTH: 20' / 6.10m • BEAM: 98" / 2.5m • DRAFT: 22" / 0.6m • CAPACITY: 11 people • FUEL: 38 gals. / 144L
WEIGHT: 3,500 lbs. / 1,588kg • HULL: T-Cut Diamond • POWER: 410 - 450 Ft-lbs of Torque • STANDARD BALLAST: 900 lbs. / 408kg
MAXIMUM BALLAST: 3, 850 lbs. / 1,446kg (1,250 lbs. + 1,100 lbs. [Plug 'n' Play] + 1,500 lbs. [Power Wedge II])
Click the image to watch the video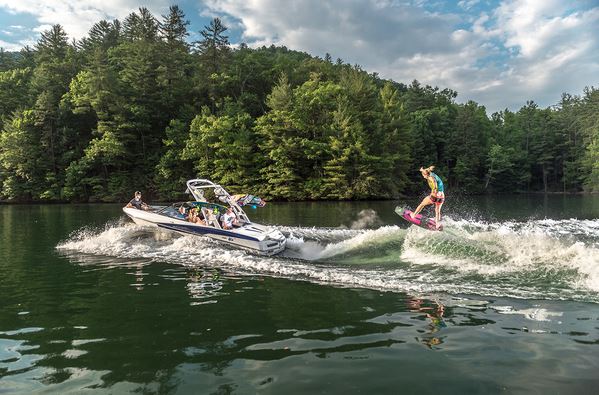 AXIS LAUNCHES THE TOTALLY REDESIGNED 2016 A20
Axis has taken the fiercest 20-foot towboat out there and made it without question the most incredible value in watersports-without sacrificing a bit of performance.
Loudon, TN | August 5, 2015 - The sickest 20-foot boat in watersports history is back and ready to rumble. The all-new Axis A20 has been redesigned from the hull up for 2016. Renowned for its wicked agility and precision, this "little monster" is easy on the bank account and built to shred better than ever, with a new wake-and-wave-maximizing hull, all-new interior, deeper storage, and an amazing array of across-the-board 2016 upgrades, leaving the competition far behind.
Unequaled access and agility are all yours with the A20. This wake specialist features incredible handling and premium vinyl seating for as many as 11 people, plus it's easily towed and stashed in your average garage. Nowhere else will you find a go-anywhere, do-anything boat that, at this size, can still kick up such a massive wake-especially with our Auto-Set Wedge-and peel off huge waves with our revolutionary, hydraulic Surf Gate, the first and still best wave-making technology in the industry. And with this reinvented beast, there's never any reason to fear the chop; the A20 doesn't get tossed around like others in its class, thanks to dialed ballast control, a cutting hull, and superior V-drive propulsion.
CEO Jack Springer is especially excited to refresh what was already the absolute best 20-footer, for the money, in the world. "The new A20 is the boat to beat when it comes to the highest performance and quality at the best price," says Springer. "We've redesigned this boat to give entry-level customers a world-class 20-foot watersports towboat that no other company can match on the water. Make no mistake: our competitors' offerings in this category don't even begin to approach the quality and craftsmanship of the Axis A20. Get out there and see for yourself. It's on another level."
Every inch of an Axis boat is function-focused and crafted to be practical and comfortable. For 2016, all models get an upgraded helm and windshield, updated interface software, an upgraded ballast system, a new Kicker stereo head unit, Axis-branded drop-in Igloo coolers, and three new gel and metal-flake color options. Once the sun drops, hang out with your family and friends and light up the night with 300 percent brighter underwater LEDs.
Come see us for a test drive and build your own A20 online using the Axis Build a Boat feature.
#littlemonster  |  #A20  |  @axiswake  |  axiswake.com/a20
click on the image to see the video

LENGTH: 20' / 6.1m  ?  BEAM: 98" / 2.5m  ?  DRAFT: 27" / 0.7m  ?  CAPACITY: 11 people  ?  FUEL: 42 gals. / 159L  ?  WEIGHT: 3,500 lbs. / 1,588kg  ?  HULL: Wake Plus  ?  POWER: 350 - 450HP  ?  STANDARD BALLAST: 900 lbs. / 408kg  ?  MAXIMUM BALLAST: 3,000 lbs. / 1,361kg (900 lbs. + 1,100 lbs. [Plug 'n' Play] + 1,000 lbs. [Auto-Set Wedge])